Questions Brew About Aspen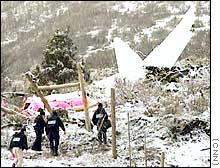 While Questions Brew About Aspen Crash............Hmmmm

Meanwhile, in the wake of the Gulfstream III crash that killed 18 at Colorado's Aspen-Pitkin Airport last Thursday, a flood of questions have arisen about the rules in effect at the airport.

If night instrument approaches had been banned by NOTAM, why didn't the tower personnel know about it? Was the NOTAM unclear about what types of approach were affected? Further, if the VOR approach at Aspen allows for Category C minimums only, and the GIII falls into Category D, doesn't that make the NOTAM issue moot? Other questions involve the time of the crash relative to the official start of "night" at Aspen and the effective time of a Stage III noise curfew.

If nothing else, the confusion shows how miraculous it is that our airspace system works as well and as safely as it does, when critical operational information can be so complicated and spark so much debate over its interpretation..

And, finally, with the option of a night/instrument approach at Aspen removed, some pilots foresee another threat to safety -- pilots will get themselves into trouble in the future by scud running up the valley in poor weather. It seems there's no such thing as a safety net without holes in it.
Home