FOR SALE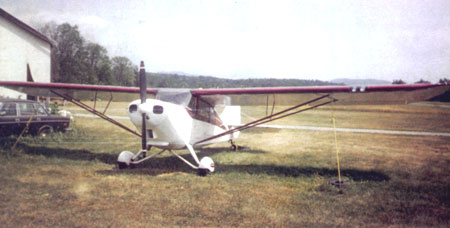 May 2000
11AC Chief with Lycoming 108/115 hp
Aircraft completely rebuilt starting 1996 -- Engine majored with NEW crankshaft, rings, valves and guides, oil pump gears, wristpins, plugs, Slick mags and harness, carb box, engine mount, heat pad, PA 18 exhaust, muffler, heat muff and ducts.
Wings rebuilt with .032 ribs, new spars and bushings, wing tips, Nav lights
Airframe stripped, glass beaded amd epoxy primed. New wood with 3 coats urethane varnish and installed with new hardware.
New control cables, toe brakes Airtex interior, newpanel.
All new instruments except artificial horizon.
Garmin 90 wired in with external antenna--earphone, push to talk and intercom
King com radio, transponder with mode c, new ELT 50 Amp Alternator, new tail wheel
CECONITE 102 and SUPER_FLITE, sealed struts, landing gear vees rebuild and rebushed.


| | | | |
| --- | --- | --- | --- |
| PLANE IS LIKE NEW AND FLIES GREAT | | | $24,000 invested |

Hangared in Granville, New York

FLOWN LESS THAN 100 hrs since rebuild.

Call: Walter Fogg (518) 639-5575
Nicholson Road
Fort Ann, N.Y. 12827 or

Dick Bovee (518) 642-9723




Back