SWPC NORTHEAST CHAPTER NEWSLETTER
June 2004
PRESIDENT'S MESSAGE
      How is everyone How is everyone at the beginning of summer? I'm trying to get psyched for summer but it isn't quite working. This process seems familiar to me. Oh yeah – just like winter, only colder! Our last pair of fly-ins in May were duds. The Freehold,N.Y. event was, I believe, rained out. The auto show fly-in at Barnes in Mass. Had a turnout of 0 according to Steve Sevits, who was an entrant in that event with a vehicle that can be seen in one of his articles. Steve has been one of the only chapter members to contribute to this newsletter and we thank him for that! He also wants to know when we are heading to Block Island? Well that destination will be our kickoff to the summer flying season.
        Our June fly-in/meeting will take place at Ballard's in Old Harbor on Block Island, R.I. Sat. June 14th with Sun. the 15th (Father's Day) as the rain date. Let's try and be at Ballard's by 12:30 for lunch. It's a comfortable walk (downhill) from the airport that should take about 20 minutes. Of course cabs are readily available in either direction and are quite inexpensive. When the weather is good, this event usually brings out the troops. Let's hope history repeats itself. If you've flown into "Block", you know it can be busy, windy with an ever-present crosswind, and well worth the trip. There is a nominal landing fee. Please remember that Block Island does not have fuel. Make sure you take that into consideration in your flight planning. I do hope we get this one in with some kind of decent attendance so the calendar for the remainder of the year can be set with member input and not by a committee of 2 or 3.
        June 30 – July 3 is the SWPC National Convention in Springfield, Mo. I just made my reservation at the Clarion Hotel. They told me rooms are going fast. If one must cancel due to weather or a sudden change in the ballet schedule, just let them know by 6:00 pm. the day of arrival. I plan to fly out with member Marc Pekowsky. I believe Rico Cannone and Phil Jacobus are planning to attend as well as Bev Jewett & family. Anyone else planning to go? I know that Dave Adams wants to go and is looking for a flight to share.
       The hotel for the convention is the Clarion Hotel – Springfield and their phone is 800-756-7318. The rooms left are about $69 per night. The convention airport is Springfield Downtown (3DW) with a 4035' runway 11-29. All the information is in the SWPN along with planned events and their fees. If you're renting a car, Enterprise has a special convention rate (you must mention the SWPC) and their phone is 417-866-0300. If you need more information, you can call Chuck Morris at 816-779-5504.
       I don't know if many of you are aware of our chapter's website and the fact that it has been updated with many new photos and the newsletters? If you have time, check it out at:
   http://members.tripod.com/~swpcne
You can post notices or questions and interact with the "folk". It would be good if this website got some action from us. I know that some weirdoes surfed onto it a while ago. I saw a response from someone out of the country that questioned the activity of the chapter by the lack of action on the site. Give it a shot.
       Speaking of websites, you might have noticed that the newsletter is a bit different this month. That's because our Webmaster Dennis Wheeler can't work with MS Publisher that I was using so I'm trying this program in MS Word. You may have noticed that the heading is missing the Secretary position. Marty Gleason is a great person, but has not been in the chapter or flying for quite some time. If and when we have our annual "Bash" at Garnsey's (if it's still possible Zene & Marcia) we have to elect a new person to that post as well as have real elections for chapter officers. While I don't mind doing what I do, I have to question whether what I'm doing is accomplishing anything positive? The attendance at fly-ins is down drastically. The same cast of characters (me included) show up at each one and wonder where the people are? There is virtually no feedback to questions asked. Only a handful of members are willing to contribute anything to the chapter & newsletter. I know that organizations like ours are cyclical. I also have to tell you that I do lead a hectic life. Besides Fred DeFillipis and Marc Pekowsky, I don't think you have an inkling of what my week (running into the next, & next) is like. When I show up to a fly-in on a perfect day and 4 people show up, I have to ask myself if someone else has the answer because, frankly, I don't! Nothing is forever folks. So – think about the future of this chapter and the possibility of "giving back".
New NYS Aeronautical Chart
Steve Sevits
       The 2003 edition of the NYS chart is out and even though it's clearly marked Not for Navigation, it's definitely something every pilot who flies in New York should have because of the information it contains.
       In recent years the names of a number of airports have changed, causing distress among some fliers who may not keep up with current database revisions on VFR GPS or Loran units. Coordination becomes difficult when reading Johnstown (Fulton County) on the current chart as NY0 and not having the GPS accept it because the old database knows it as NY27. Nowhere in my experience have I come across a compilation of airports with both old and new identifiers…. That is until the new NYS chart arrived this week.
One margin of the chart contains a detailed comparison chart of features
of the various types of airspace in both graphic and written form. The obligatory flight plan form is represented but so is the detailed "special equipment suffix" list for various combinations of aircraft equipment. This chart is FREE. Just drop a line requesting it to the NYS Dept. of Transportation, 1220 Washington Ave. Albany,N.Y. 12232.
              Anyone who has been to an aviation safety seminar recently knows that the current "hot button" is the issue of runway incursions. The NYS chart has a "Top Ten" list (a la David Letterman) of tips on avoiding runway incursions along with a full color set of graphics depicting airport signs along with their meanings.
       The NYS chart is an excellent planning tool, one which can be very useful at home over the kitchen table as it also includes information on regional tourist attractions, complete with listings of airports serving each region. It's well thought out and well executed and should be a priority acquisition for every pilot who flies in New York State. The following list of changed NYS airports was current as of 4/20/03. They are updated every 56 days at:
City                 Airport        New ID  Old ID   
Alexandria Bay   Maxson Field           89N       NY01
Argyle                 Argyle                      1C3       NY02
Batavia               Genesee Co.            GVQ     3G8
Cambridge          Chapin Field             1B8       NY15
Camillus              Camillus                   NY2      NY35
Chittenango         Luther                      1D5      NY09
Cicero                  Michael Airfield        1G6      NY10
Clay                     Airlane Enterpr.        1H1      NY11
Cooperstown       C'prstwn-Westfield   K23      NY54
Degrasse             Moore's                    1E8       NY15
Dolgeville              Dolgeville                 1F6      NY16
E.Moriches           Lufker                       O00     4NY7
Edinburg              Plateau Sky Ranch   1F2      NY18
Endicott                Tri-Cities                   CZG     NY17
Freehold               Freehold                   1I5       NY21
Fulton                   Oswego Co.              FZY     NY00
Gansevoort          Heber Airpark            K30     NY76
Ghent                   Kline Kill                    NY1     NY22
Gouverneur          Hendricks Field         1K0     NY24
Greenville             Greenville-Rainbow  1H4     NY25
Hamilton                Hamilton Munic.       H30      B24
Johnstown             Fulton Co.                NY0     NY27
Keene                    Marcy Field              1I1       NY29
Lexington               Maben Field             N00     NY32
Livingston              Green Acres            1A1      NK02
Mechanicville         Burrelo-Mech.          K27     NY55
Penn Yan               Penn Yan                PEO     N22
Piseco                    Piseco                     K09      NY43
Rome                      Beck's Grove          K16      NY45
Round Lake            Round Lake             W57    NY46
Scotia                     Mohawk Valley        K13      NY50
Sharon Springs      Sharon                     K31     08NY
Westport                 Westport                  N25     8NY9
(Ed. Note: all new Ids on this list were correctly listed in the 2001-2002 AOPA Airport Directory)       
What's Coming Up This Summer?
       You may have remembered that the Bayport Aerodrome Society on Long Island will be hosting a monthly fly-in/meeting on Sunday July 6th and featuring the Short Wing Pipers. This is an interesting group of dedicated & involved aviators and enthusiasts at a unique grass strip just south of Islip Airport on Long Island, N.Y. I say unique, because I believe this is the only Federally funded municipal grass strip in the country. It's a hotbed of activity in the area of antique and classic general aviation. Both president William Clifford and member George Mitchell have been in touch with me about this event. I told them I'd do my best to get the word out and try to get a showing of our aircraft to fly-in. Rich Capece from the Mid-Atlantic chapter is also making an effort to get some of his members to attend.
       It will be an all-day event (weather permitting) and there will be hot dogs, hamburgers, & soda for the hungrier folks. This is definitely an event to get to if you can. I'm planning on being there if I get back from the convention in time, or I don't have to play the ballet. Besides getting together with fellow SWP enthusiasts, you'll be able to see some of the great antique and classic aircraft that call Bayport (23N) home. The Bayport Aerodrome Society has their own website: WWW.Bayportaerodrome.org
The site has some great pictures of some of the aircraft based there as well as a diagram of the slightly un-orthodox traffic pattern. Pattern altitude is 641' and Unicom 122.7. If you fly in, do consult the website.`
Car Show at Barnes Airport
Steve Sevits
       Andy suggested since I was going to the car show at Barnes Airport on 5/18, an overview would be appropriate. That's why there's a car story in a flying newsletter. (Ed.note- These car enthusiasts have some pretty fantastic specimens that, no doubt, took a lot of time, $$$, and hard work. They are perhaps crazier about their passion than we are about our aircraft)
       The day dawned clear and balmy and continued for the duration as about 150 vintage Chrysler product vehicles gathered for the 23rd annual Memorial Day event. About 2500 car enthusiasts and "lookers" showed up to view the old, the exotic and the polished from the automotive world.
       Entered in the judjing were diverse offerings ranging from a 1930 DeSoto roadster complete with rumble seat to a convertible Plymouth truck. If you remember DeSotos or rumble seats you are at least as old as I.
       This year the food offerings, in spite of my predictions, were much improved. On hand, although not to be judged, was an ice cream vendor operating out of a right hand drive, Brittish double decker bus which was a curiosity in itself. The car show was in a new location on the airport quite a distance from the flight line, so for anyone flying in, it might have been a challenge to get from one place to another. My restored 1978 Dodge Aspen wagon (the only station wagon in the show) pleased me by snagging a 2nd place award.
       The only aircraft seen were a C-150 doing t&gs and a Mooney. Not a single Short Winger seemed to be in evidence. Barnes is home to the Pioneer Valley Transportation Museum which makes it a destination in itself. There is an airport restaurant on the field. Car show or not, 5/18 was a perfect day for flying. I hope you took advantage of the perfect weather wherever you went.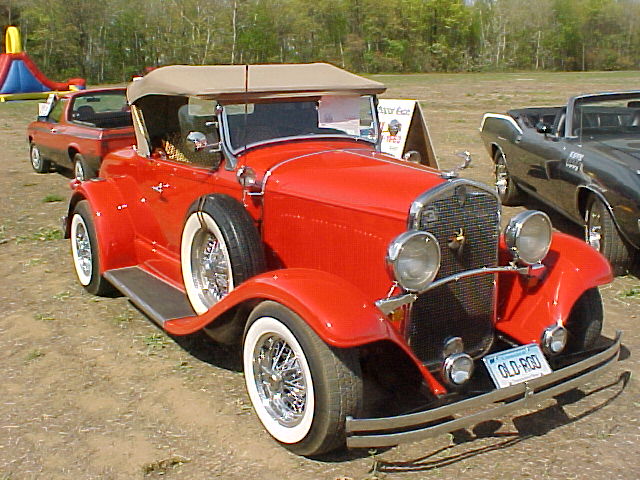 1930 DeSoto Roadster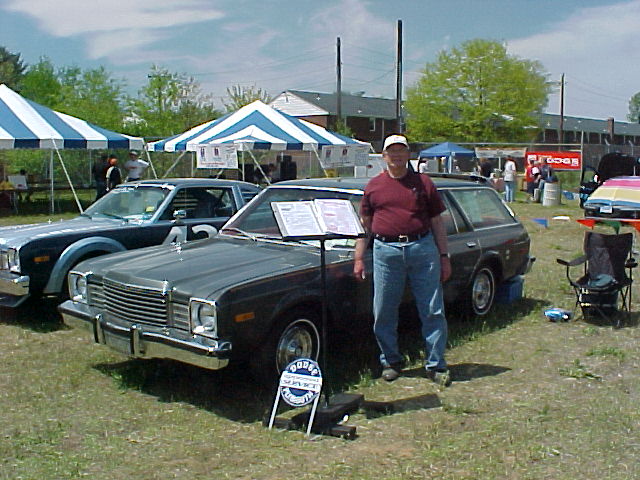 Steve Sevits & 1978 Dodge Aspen wagon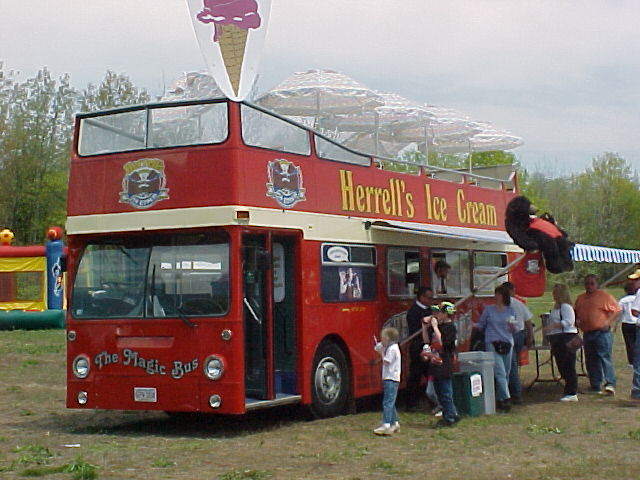 Beats Mr.Softee ?
Hope to see you on Block Island 6/14 – safe flying to you all.              Andy Seligson
Home