President's Message
It's been a while since I had the free time to sit down and do a newsletter. Now's the time. How are you folks doing? Are you enjoying autumn and the colors? This weekend (11/1) promises temperatures in the 70s with good VFR! I hope I can get some flying in; maybe a flight down to the Baltimore area to visit my brother.
We've had 2 fly-ins since the last newsletter and people actually showed up! Our first was to Basin Harbor Resort on Lake Champlain in Vermont. The day was good VFR. I flew up with our daughter Jennifer and husband Ari. This was Ari's first flight in a small plane and he loved it. It was a great flight up the Hudson Valley and Lake George. We flew around our family's old house on the lake at Diamond Point. Boy do I wish my parents weren't in such a rush to sell it in 1969!! Rico Cannone flew up with Wes Morris in Rico's Tri-Pacer from Heber's near Saratoga, N.Y. Wes took some pictures of both this and the Cooperstown fly-in. Mike Hirsch and friend Davis Keniston flew in from Beverley, Mass. In Mike's Pacer. Steve Sevits flew up from Columbia County N.Y. with Neal Hulet in Steve's Tri-Pacer. It was great to see Fabio Schulthess. It's been a while since his airline schedule allowed him some free time on this side of the "pond". He flew over from Sugarbush, Vermont with his brother Antonio and sister-in law Ana in his sharp Pacer. Roger Teese, along with wife and a friend, had flown over from nearby Shelbourne, Vermont in his Tri-Pacer, not knowing of any fly-in. Hopefully we have a new member.
We all enjoyed each other's company and a good lunch in the Red Mill restaurant, adjacent to the excellent turf strip. While Jennifer and Ari explored the grounds and lake, the rest of us enjoyed some serious hangar flying.
My schedule prevented me from getting to our "Fall foliage fly-in" in Cooperstown, N.Y. It's too bad, because I had been told the airport is under new management and had a big makeover. I must apologize, but Rico Cannone e-mailed me a blurb on this fly-in and I must have hit the wrong button and deleted it. Luckily, Wes Morris took some pictures. I'll try to interpret who was there. Please don't be offended if I left out some names, but I saw some unfamiliar faces (that's a good thing). I know that Rico Cannone & Wes Morris flew in from Heber's in Rico's Tri-Pacer. Jim Field flew down from the Watertown, N.Y. area in his Tri-Pacer. A great guy, always travelling a long distance to make our fly-ins. I'm sorry I missed him. I'm also sorry that I missed Phil Jacobus & Theresa Filkins, who flew over from Hammondsport, N.Y. in their Pacer. I haven't seen them since, I believe, the SWPC convention in Denver! Also in attendance was new member Gary Collins from nearby Cobleskill, N.Y. with his Vagabond. I'm sure I left out some people and I appologize. Judging by the photos that Wes Morris took, the Fall foliage was spectacular. It's good to see that the Cooperstown airport got some sprucing up with a paved ramp ( it still has a good turf runway), fuel is available, and the airport restaurant is back in business!
Our November fly-in will be to the New England Aviation Museum in Windsor Locks, Connecticut on Sat. Nov. 22nd with Sun. the 23rd as the rain date. This has always been a popular event. If you've never been to this facility, it is definitely worth the trip! As in the past, we will have our own tour guide; excuse me – docent.
Here are the particulars about this fly-in. First of all, Windsor Locks (BDL) is a busy airport with appr./dep. Control, atis & tower. Don't let any of this intimidate you. Just get the atis, call approach and tell them you're landing Bradley. They'll take it from there. We are parking at TAC Air which is on the east side of the field (the old AMR Combs facility). The chapter will pick up the ramp fee. The FBO will shuttle us over for our tour. The tour is set for 12:30. Please be at the FBO no later than noon so that we can proceed in a timely fashion. Admission is $7. Unfortunately the museum does not have eating facilities. Those who want to eat can either eat before or after at one of the many eateries along the highway nearby. Just remember when the sun sets. The tour shouldn't be more than 2 hours.
The museum contains many great examples of both military and civilian fixed-wing and rotorcraft. We usually get to visit the restoration facility which, alone, is worth the price of admission. If the weather is good and the ground isn't wet (muddy), the outdoor exhibit is great. Do bring your cameras.
Just a reminder that you should tell the folks at TAC AIR that you are with the Short Wing Piper Club so that we pay your ramp fee. I'll lay it out and Margaret will reimburse me. Speaking of Margaret, I hope the Archambaults are alive and well and can make this event.
It's been some time since I've seen them. Not to belabor a point, but the emphasis on this event will not be food, but a tour of the museum. Those that want to eat after the tour will have that opportunity, but keep in mind when the sun sets and dealing with night flying. Some of us don't do night flying and I understand. Then again, some of us do.
Our December "Holiday Fly-In" will take place on Sat. Dec. 6th with Sun. the 7th as the alternate at Meadowgreens at Columbia County Airport (1B1) in Hudson, N.Y. If it should take place on Sunday we will enjoy the great Sunday buffet brunch at "Depression Rate" prices (if you wish). I am awaiting a call back from Mark Furman, our friend from the FAA FSDO in Albany, as to whether he, he & his wife, or someone else from the office can put on a presentation for us. Maybe Santa will make a stop with some goodies? Of course we will have our annual holiday $$ drawing for paid up members. That's worth the price of renewal! Please put this date on your calendar, as it comes up rapidly after our Nov. fly-in and I'm not sure if there will be a newsletter or postcard to remind you.
Speaking of newsletters and postcards, we are always looking for articles on anything aviation – related. I know that I've been here before and hate to beat a dead horse, but then I'm writing this. I would also be interested in sharing, or relinquishing this duty ro anyone interested. I seem to have less and less time. I promise that I would help and still write something each month. Please let me know. Also, don't be insulted if your expiration date is incorrect. I have to get up to date with Margaret. The format she was using to send me this information doesn't seem to be working. I will only extend mailings for 6 months beyond expiration. Come on - $15 bucks isn't going to break us.
Ramblings
When Marc Pekowsky and I flew out to the Convention in Springfield, Mo. this summer, I realized that my trusty Terra TXN nav-com was in a rapid state of decline ( terminal – know what I mean?). I did some research and came to some conclusions. The first conclusion was that I wasn't going to fly this plane IFR any more. It was barely marginally equipped for this purpose. Given this conclusion and the fact that I have a Loran and portable GPS unit that works well, I got a Garmin GNC 250 XL GPS-Com and couldn't be happier (ok – a full Garmin stack/IFR would be nice, but the twin I use has this along with other things that make a 104kt Tri-Pacer not a contender). Bev Jewett has one and is quite happy with it. If it's good enough for him, it's good enough for me & it is.
I remember when I got my Foster Loran years ago. Fred DeFillippis flew me out to Pennsylvania to pick up the plane. The good folks at Braden's Flying service gave me a quick walkthrough of how to use the unit and I was off quickly to beat weather that was approaching from the west. The unit didn't work as I thought it would. A phone call to Mike Krupa at Braden's brought the old reply- read the manual!
Such is the case with this unit. I am learning the uses quickly. Some areas are similar to my Garmin Pilot III portable GPS. Time and practice (where have I heard this before?) will, I hope, enable me to get full usage of this unit before it becomes obsolete. Isn't it amazing how technology has advanced quickly in aviation in the last 10 years, leaving things obsolete in its path, yet many of us are flying aircraft that are close to half a century old??
The folks at VIP Avionics, who did a good job price wise and installation wise, pointed out that my trusty 46 year old Airpath compass was losing fluid and needed to be rebuilt. They would be glad to do this for a price tag of over $250. You could buy a new one for less! This was one of the topics for discussion at lunch at Basin Harbor. You could imagine Neal Hulet's reaction when I related this story. Hopefully a $12 compass repair kit and knowledge of a seasoned I.A. will save me some $$ and my compass will be like new again.
TFRs
I did take advantage of the good, warm, November 1st 75 degree weather, to fly down to the Baltimore area and visit my brother. For those of us in the northeast, especially the NYC & Boston areas, we surely remember those onerous TFRs and the hassle that went with them. Now remember folks, seriously, these TFRs were put in place for National Security! As of this writing, except when our President is traversing our flight path, we do not have any of these TFRs to contend with.
Not so the folks that lie beneath the Washington/Baltimore class B airspace. They have to contend with this on a daily basis! I had to file an ADIZ/VFR flight plan and pick up my clearance at a particular time and location to get a beacon code. This wasn't too big a hassle. It was kind of like what we had to do when flight returned to the NYC area after 9/11. I filed the plan with NYAFSS and when I got to Swann intersection, 30 miles east of Baltimore, and called Potomac approach, they gave me a code, identified me, told me I could fly to my destination (Laurel Suburban Airpark) any way I wanted but to remain clear of the class B and that no advisories were being given. When I reported Suburban in sight, they told me to switch to unicom but keep the code until on the ground. Really not a big deal.
It was such a nice day in the Baltimore area, that I decided it would be fun to fly over to Kentmorr, an island about a 15 minute flight east of Laurel, that has a nice grass strip on a fly-in community, with a great restaurant a block away at the marina. Here's where it becomes a pain. You have to file another flight plan ( I filed the return from Kentmorr to Laurel as well ) and then call Potomac on the phone to get your discreet code. The call to FSS had me put on hold for 25 minutes! The discussion with the briefer and the actual filing took 15 minutes!! This is Leesburg AFSS, the "local" folks who handle this area and should be familiar with these procedures. Forty minutes to make a 15 minute flight!. The briefer also told me to be extra careful because there were more planes flying to Kentmorr today than she'd heard in 25 years on the job! ( she didn't say what job). Well folks, we were the only plane that was in the air or on the ground during the time we were there, besides some military jets that were practicing formation flying overhead. The restaurant was mobbed with boaters and day trippers to the island. We ate outdoors, enjoying the 80 degree weather and great seafood.
My brother enjoyed the flight. He hadn't been up in a small plane for a few years. It was a treat for him to see his new surroundings from the air, having moved here from Los Angeles last January. He had no idea that the place even existed. A trip by car would have taken about (I think) an hour and a half.
The procedure for making my return flight to White Plains went smoothly and quickly. Perhaps the fact that I dealt with Altoona, Pa. AFSS made it easier. You know that when one FSS facility is overloaded with phone calls, your call is forwarded to another facility. The briefer seemed to be familiar with the procedure, as was the N.Y. FSS person
I started the day with. After takeoff from Suburban, I called Potomac, they gave me another code, told me where to go (stay clear of class B) and when I could go on course.
I'm sure the good folks at the FAA, both controllers and FSS people, aren't nuts about the situation. They're doing the best they can to facilitate the situation. The airspace is quite large and busy, at least on this 80 degree November day! The last time I flew down here was last January and it was very, very cold! There were no TFRs for the general area ( just the "Washington 3") and the controllers gave me carte blanche of the airspace in regards to class B. Maybe they got busier with BWI traffic? Maybe there were too many VFR ADIZ planes to deal with? Maybe they were pissed off at all the additional workload from these TFRs? I don't get it, do you? Oh yeah, National Security. Give me a break!!
The flight home was good and smooth. The Garmin GNC 250XL worked just fine. The Philly & New York controllers gave me clearances through their respective class B airspace. The flight up the Hudson River corridor at night is always spectacular. I guess the airspace around the New York City area is not as busy as BWIs. They only have Kennedy, LaGuardia, & Newark to worry about. Could it be that National Security is less important up here? Again – give me a break! The only drag is that leaky compass. It's pretty accurate, but hard to read because air bubbles are becoming a factor. I eagerly await my repair kit.
I do hope your schedules and the weather cooperate so that you can make it to the 11/22 fly-in to the New England Aviation Museum. Don't forget to call 1-877-SWPCNE4 after 7 am on the day of a fly-in. Safe flying to you all.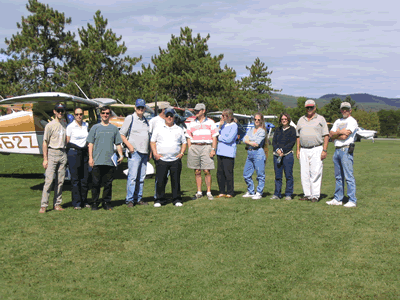 L to R at Basin Harbor: Antonio Schulthess,
Ana, Fabio Schulthess, Wes Morris, Rico Cannone,
Roger Teese, wife & friend, Jen Fields, Andy Seligson, & Davis Keniston.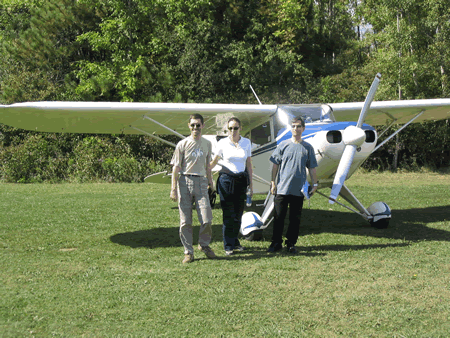 L to R: Antonio, Ana, & Fabio Schulthess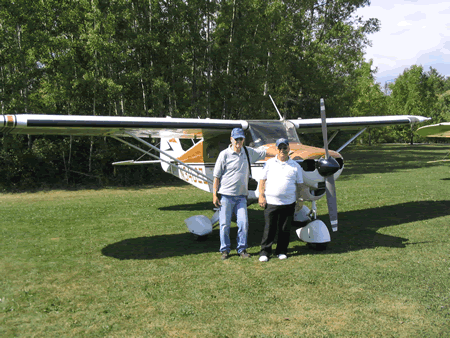 L to R: Wes Morris & Rico Cannone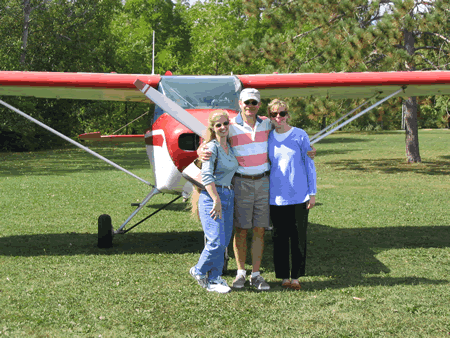 L to R: Wes Morris & Rico Cannone.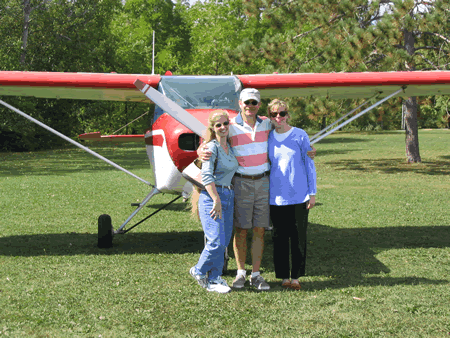 Roger Teese with wife & friend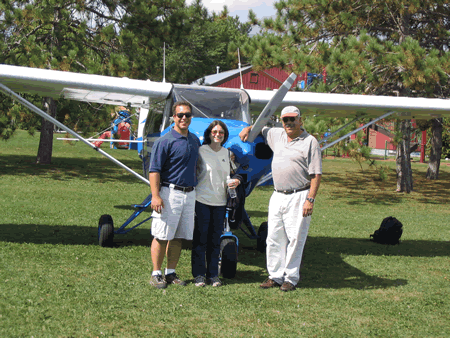 L to R: Ari Kellner, Jen Fields, & Andy Seligson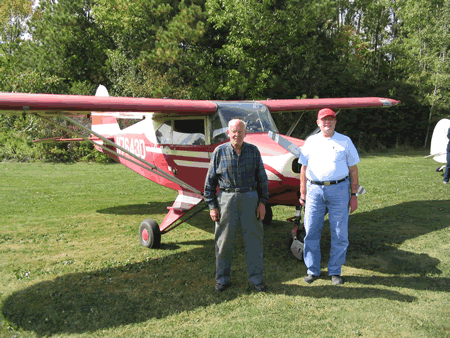 L to R: Neal Hulet & Steve Sevits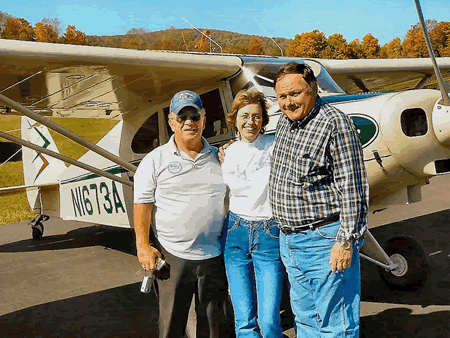 L to R: Rico Cannone, Teresa , & Phil Jacobus at Cooperstown, N.Y.
Rico in center at the "new" Cooperstown Airport
with Gary Collins' Vagabond in background.
Some of the great Fall foliage scenes taken by Wes Morris from Rico's Tri-Pacer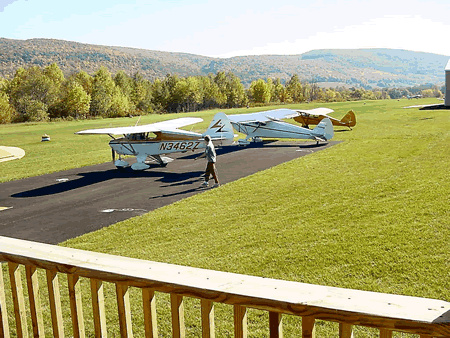 The "new flight line" at Cooperstown, N.Y.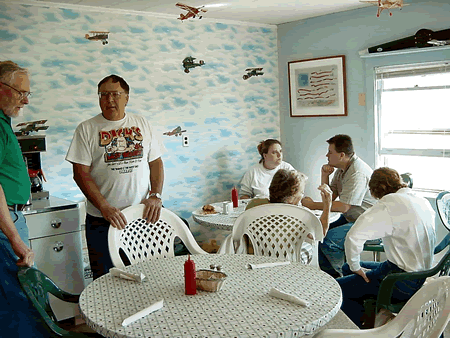 L. Jim Field & folks in the "new" Cooperstown Airport Diner.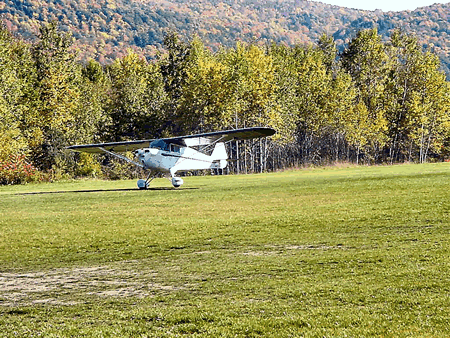 Nice L-4 on the turf at Cooperstown, N.Y.
Pictures courtesy of Wes Morris – thanks!
Home